Bangkok, the vibrant and bustling capital of Thailand, is a city that never sleeps. It's a place where ancient temples coexist with modern skyscrapers, and street food stalls serve up culinary delights that will tantalize your taste buds.
If you're planning a visit to this dynamic city on a budget, you're in luck. I've scoured the web and explored the streets of Bangkok to bring you the 10 best hostels that offer not only affordability but also unforgettable experiences.
Are you an adventurous traveler looking for a unique and budget-friendly stay in the heart of Bangkok? Look no further than the Episode 11 Hostel Bangkok, a one-of-a-kind prison-themed hostel that offers an unforgettable experience.
Nestled just 32 meters away from the Nana BTS Sky Train Station, this hostel is not your average accommodation; it's an immersive journey into the world of quirky coolness.
From the moment you step inside, Episode 11 Hostel Bangkok transports you into a prison-themed wonderland. The interior is meticulously designed with rustic furnishings, vintage electric bulbs casting a warm glow, and yes, even realistic prison bars that make for Instagram-worthy "cell-fies."
The bare concrete walls and dimly lit reception area add to the unique atmosphere, creating an environment that is both captivating and comfortable.
Property Terms & Policies:
Non-Refundable Bookings: Please note that all bookings at Episode 11 Hostel Bangkok are non-refundable, so be sure of your travel plans before confirming your reservation.
Flexible Check-In: Check-in is available from 14:00 to midnight, providing you with ample flexibility to arrive at your convenience. For late check-ins, we kindly request advance notice to ensure a smooth arrival process.
Convenient Check-Out: Check-out can be completed from 7:00 am to noon, giving you a leisurely start to your day in Bangkok.
Key Card Deposit: A key card deposit of 500 Baht is required upon check-in, payable in cash only. This deposit ensures the security of the key card provided to you during your stay.
Passport Requirement: For the security of all guests, a valid passport is required for all check-ins.
Payment on Arrival: Payment for your stay is accepted upon arrival and is cash-only, so please ensure you have the necessary currency ready.
Non-Smoking Environment: To maintain a clean and comfortable atmosphere for all guests, all rooms at Episode 11 Hostel Bangkok are designated as non-smoking areas.
When it comes to hostels near the iconic Khaosan Road in Bangkok, Tales Khaosan is the hidden gem you've been searching for. While we may not be a raucous party hostel, we certainly understand the value of a good night's sleep, and our location, just a stone's throw away from the bustling Khaosan Road, ensures you have easy access to all the revelry while still enjoying a peaceful slumber.
Meet Your Hosts
Tales Khaosan is not just another hostel; it's a labor of love run by two sisters and their exceptional staff. We know what it's like to miss traveling, and we're more than eager to welcome you back with open arms. Our cozy hostel accommodates up to 22 guests, allowing us to provide personalized attention and care during your stay.
Reception Hours and Self-Check-In
Our reception is open from 8:00 AM to 11:00 PM, ensuring that there's always a friendly face to assist you. If your arrival falls outside these hours, don't worry; we'll provide you with easy-to-follow self-check-in instructions.
Amenities That Make Your Stay Memorable
We believe in going the extra mile to make your stay exceptional:
Free Luggage Storage: Enjoy the freedom to explore Bangkok without the weight of your bags after check-out.
Free Post-Check-Out Shower: Freshen up before your onward journey on the same day you check out.
Complimentary Wi-Fi: Stay connected with free Wi-Fi access throughout the hostel.
Towels and Toiletries: We provide towels and essential shower products, and you can request fresh towels daily.
Free Drinking Water: Stay hydrated with our complimentary drinking water.
Peaceful Slumber in the Heart of the Action
While we're just steps away from the lively Khaosan Road, our tranquil haven offers you a quiet night's sleep when you need it most.
Your Travel Advisors
We're more than just hostel hosts; we're here to help you plan your Bangkok adventure. Whether it's recommendations for must-visit attractions, local insights, or travel tips, just ask, and we'll gladly assist you.
Exploring Bangkok's Treasures
Tales Khaosan is strategically situated in the heart of Bangkok's backpacker district. You're a mere 1.5 kilometers away from the Grand Palace, Wat Pho, and the Chao Phraya River. Plus, you're surrounded by convenience stores and tantalizing street food stalls, ensuring you'll never go hungry.
Diverse Accommodation Options
We offer a variety of lodging choices to cater to different preferences:
12-Bed Standard Dormitory: Perfect for socializing with fellow travelers.
8-Bed Premier Dormitory: A great balance of social interaction and privacy.
Private Rooms: Ideal for those seeking more intimate and secluded accommodations.
Our commitment to cleanliness means you can expect fresh towels, clean linens, and regular housekeeping.
Cafe on the Ground Floor
Start your day with a delicious breakfast and coffee at our on-site cafe, located on the ground floor.
Early Check-In and Airport Pick-Up
We understand that early arrivals happen. While our guaranteed check-in time is 2:00 PM, we'll do our best to accommodate you earlier if beds are available from the previous night. If not, you can store your luggage, freshen up, and relax in our lobby. We also offer airport pick-up services starting from 600 THB; just remember to book in advance.
Important Notices
Tales Khaosan is for guests aged 15 years and older. Please have proof of age ready upon check-in.
We accept cash payments in Thai Baht or Visa/Mastercard (with a 3% charge for payments less than 500 THB) upon arrival.
Please note that air-conditioning in dormitory rooms is turned off from 12:00 PM to 4:00 PM; however, it remains on in the common areas.
YakThai Poshtel isn't just another accommodation; it's a newly renovated poshtel that invites you to experience the very essence of Bangkok's rich heritage.
Nestled in the heart of Bangkok's historic old town, our poshtel offers seamless access to renowned attractions such as the Grand Palace, the Giant Swing, and the vibrant Khaosan Road.
But it's not just our proximity to these landmarks that sets us apart; it's the immersive cultural experience you'll discover right on our doorstep.
A Unique Location
Our poshtel is perched next to a tranquil canal, providing a serene backdrop for your stay. Here, you can unwind and observe the rhythm of local life, all while enjoying picturesque views.
Just across the street, a magnificent 150-year-old temple, Wat Ratchabophit, stands as a testament to Thailand's spiritual heritage—it's even home to the current Supreme Patriarch of Thailand.
Seamless Connectivity
Getting around Bangkok from YakThai Poshtel is a breeze. A bus stop is conveniently located just two minutes away, while the SamYot MRT (subway) station is a mere six minutes' walk. Taxis and Tuk-Tuks are readily available right outside our doors, and a nearby parking lot is a short four-minute stroll away.
Elevated Beddings
At YakThai Poshtel, we understand that a comfortable bed is key to a great night's sleep. That's why we go the extra mile to ensure that you enjoy an extraordinary sleeping experience. All our rooms come with a selection of pillows to cater to your personal preference, along with high-quality, hotel-grade beddings.
Pillow Options: Whether you prefer a soft and fluffy pillow or one that offers firmer neck support, we've got you covered.
Pocket Spring Mattress: Our mattresses feature pocket springs that move independently, ensuring a restful night's sleep even if your companion tosses and turns.
Duvets and Bedsheets: Experience the luxury of our lightweight, super-soft duvets and finely woven bedsheets with a high thread count for ultimate comfort.
Towels: Wrap yourself in the comfort of our hotel-grade, 100% cotton towels, designed for softness and superior water absorption.
Thoughtful Design & Decor
The exterior of our building showcases a striking dark grey facade with a giant face that exudes an air of protection—a nod to Thai ancient beliefs. The background features diamond shapes inspired by traditional Thai costume patterns.
Inside, our poshtel boasts a minimalist contemporary design that creates a calming and comfortable atmosphere. We've crafted a space where guests can unwind after a long day of exploration.
Choose from our standard rooms with shared bathrooms or family suites with en-suite bathrooms and a cozy living area. All rooms are equipped with air conditioning, and bathroom amenities are provided in every bathroom. You can enjoy free Wi-Fi throughout the entire property, including common areas and rooms.
Property Policies & Conditions:
Check-In & Check-Out: Check-in is available from 2:00 pm onwards, and our staff is available 24/7 to assist you. Check-out is before 12:00 pm.
Payment: We accept cash only upon arrival.
No Smoking or Pets: Smoking and pets are not allowed inside the property to ensure a comfortable environment for all guests.
Keycard Deposit: A keycard deposit will be requested upon arrival and returned when you check out.
Towels and Linens: We provide towels and linens for your convenience.
Luggage Storage: Luggage storage is available, allowing you to explore Bangkok freely.
YakThai Poshtel isn't just a place to stay; it's an opportunity to immerse yourself in the culture and history of Bangkok's old town. Book your stay with us today and discover the perfect blend of comfort and culture in one unforgettable experience. We look forward to welcoming you!
In the heart of bustling Bangkok, there's a unique haven that stands out from the ordinary. Welcome to Baan Kun Mhor Hostel, where our inspiration flows from the concept of healing and rejuvenation, much like a visit to the doctor's office. But let's be clear, we're not a hospital; we're your tranquil oasis in the city.
The Healing Touch
Imagine being led to your dreams by the comforting embrace of our beds, savoring breakfast just the way you like it, and discovering new friendships and a sense of belonging.
These are the ways we recharge your body and mind, offering you a wellspring of energy in a world that constantly demands it. In Thai, "Baan Kun Mhor" translates to "a doctor's house," and while we share the name, our purpose is entirely different.
A Comfortable Retreat in Bangkok
Located in the vibrant city of Bangkok, Baan Kun Mhor Hostel beckons with free WiFi and cozy accommodations. Just 2 kilometers away from Central Plaza Ladprao, we provide an ideal escape from the city's hustle and bustle.
Our air-conditioned rooms are designed with your comfort in mind and feature tasteful furnishings, ensuring you feel right at home. You can also indulge in entertainment with a flat-screen cable TV and enjoy the convenience of a private bathroom with a shower and complimentary toiletries.
Property Terms & Policies:
Check-In & Check-Out: Check-in begins at 14:00, allowing you ample time to settle in comfortably. Check-out should be completed by 11:00 to ensure a smooth transition for incoming guests.
Reception Hours: Our friendly reception team is at your service from 7:30 to 20:00, ready to assist with any inquiries or special requests you may have.
Payment Options: For your convenience, we accept both cash and credit card payments. Please note that credit card payments will incur a 3% surcharge.
Cancellation Policy: Any cancellations or amendments to your reservation must be made at least 7 days before your scheduled arrival to avoid charges.
Complimentary Breakfast: Start your day on the right foot with our inclusive breakfast, ensuring you're fueled and ready for your adventures in Bangkok.
Smoke-Free Rooms: While we offer a designated smoking area, we kindly ask that you refrain from smoking in the rooms to maintain a fresh and clean atmosphere for all guests.
Age Limit: We extend a warm welcome to guests between the ages of 18 and 50 years old.
At Baan Kun Mhor Hostel, we believe that a restful stay goes beyond just providing a place to sleep. It's about creating an environment where you can truly rejuvenate your body and spirit.
Whether you're here for leisure or business, our hostel offers a peaceful retreat that's both inviting and rejuvenating. Book your stay with us today and experience the healing touch of Baan Kun Mhor Hostel in the heart of Bangkok.
1SABAI Hostel in Bangkok is more than just a place to rest; it's a modern home away from home. We don't operate like a mechanized hotel; instead, we treat you with the care and attention you'd expect from a friend.
With our on-site restaurant and café, complimentary cold fresh water and tea available 24/7, high-speed WIFI, shared toilets and showers (with six of each), and a kitchenette for those who enjoy cooking, we offer all the comforts you need for a memorable stay.
A Space to Connect and Relax
Our hostel prides itself on cleanliness and providing a welcoming environment. With a spacious 2000-square-foot common lounge, you'll have plenty of room to chill, relax, and meet fellow travelers. Here, making new friends is as easy as enjoying a cup of tea.
Central Location for Ultimate Convenience
Situated right in the heart of the city, 1SABAI Hostel is a mere 600 meters from the Asoke BTS Skytrain and Sukhumvit MRT Subway Stations, making it incredibly easy to explore Bangkok.
We're just 15 minutes away from the bus terminal to other islands, the largest night market, Soi Cowboy's nightlife and pub street, and a 10-minute walk from the Terminal 21 Shopping Mall, offering a multitude of dining and entertainment options.
You'll find access to popular areas like Pat Pong, Siam Center, Paragon, and the MBK Shopping Mall, all within 5 km of our hostel. The Suvarnabhumi International Airport is just a 40-minute ride away by public transport (costing only 60 THB) or taxi.
A Perfect Choice for All Types of Travelers
1SABAI Hostel caters to a diverse range of travelers. Whether you're interested in making new friends, uncovering secret travel tips about Thailand, exploring the nightlife, savoring delicious food, or indulging in retail therapy, we've got you covered.
Comfortable Accommodations and Amenities
We offer a variety of room types, including private rooms and dormitories. Our personal sleeping spaces come with individual reading lights and power sockets for your convenience. In private rooms, you'll also find complimentary clean towels. Our common lounge features a TV, security lockers, and a fully-equipped kitchen. Additionally, we occasionally host special activities and provide a living area where you can peruse travel books and watch movies.
At 1SABAI Hostel, our mission is to help you Sleep Well, Eat Well, Feel Well, and Play Well. We're dedicated to replenishing your body and mind during your stay with us.
Property Policies and Conditions:
Check-In & Check-Out: Check-in is from 2 pm, and check-out is before 11 am. If you plan to arrive later than your indicated arrival time, please inform us at least 6 hours in advance.
Guest Registration: For security reasons, please do not bring unregistered guests to stay.
Cancellation Policy: We require a 2-day notice for cancellations to avoid a one-night stay charge.
No Tolerance for Dangerous Items or Drugs: Any guest found with dangerous weapons or illegal drugs will be reported to the police and will not receive a refund.
No Smoking Indoors: Smoking is not permitted in any indoor public areas of the hostel. We provide an outdoor smoking area.
Payment: We accept cash payments only upon arrival.
Reception Hours: Our reception operates from 9 am to 9 pm. Late check-ins are accepted, but without prior notification, we cannot guarantee availability or offer refunds. For check-ins later than 10 pm, please send an email to 1sabaihostel@gmail.com to inform us.
1SABAI Hostel is your ideal choice for a memorable stay in Bangkok. Whether you're exploring the city or just looking to relax and meet fellow travelers, we've got everything you need for a fantastic experience. We can't wait to welcome you!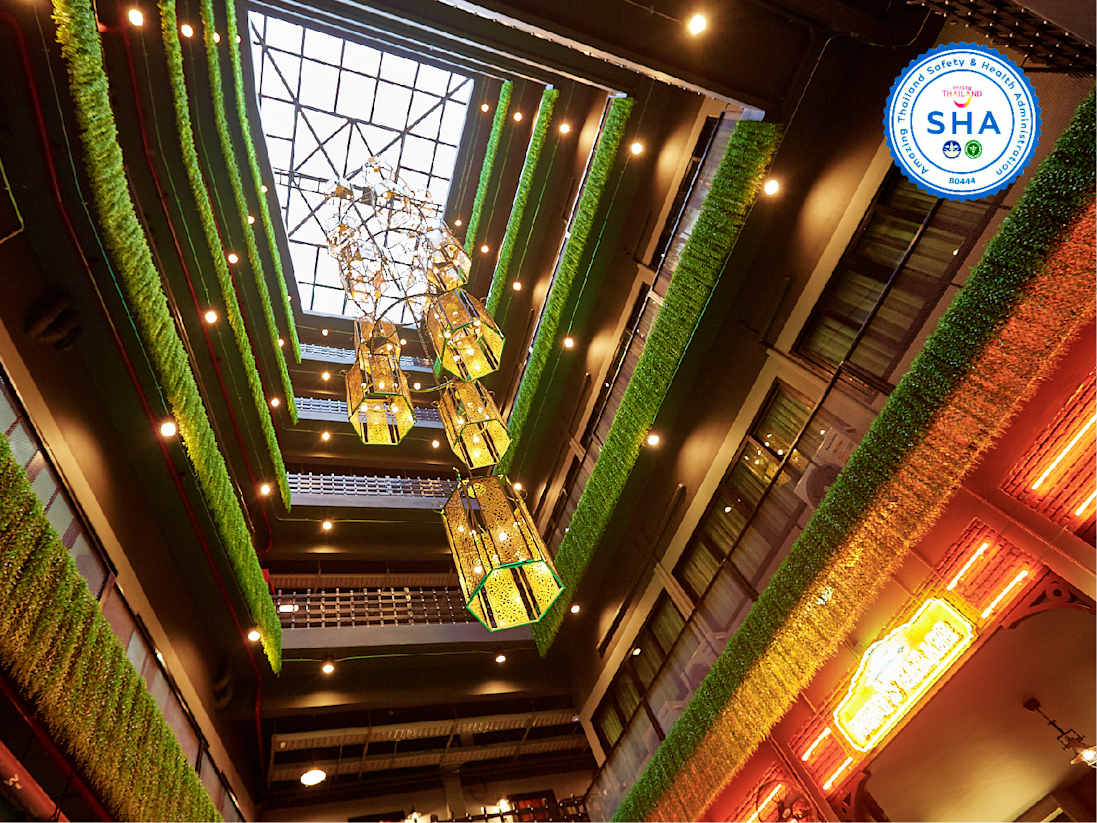 Discover the essence of laid-back luxury at W22 by Burasari, a 3-star boutique lifestyle hotel nestled in the vibrant heart of Bangkok's Chinatown. Our youthful and hip boutique hotel offers an unforgettable stay for solo travelers, friends, and families alike. Let us introduce you to the perfect blend of style, comfort, and affordability.
Stylish Comfort Awaits
At W22 by Burasari, we take pride in offering stylish rooms that provide the ultimate in relaxation. Our wonderfully comfortable beds are designed for a rejuvenating sleep experience, and our rooms are equipped with all the modern amenities you need to feel right at home. Experience the perfect fusion of casual, urban style with the traditional ambiance of a Chinese residential neighborhood.
A Space to Unwind and Socialize
Our 3-star budget hotel boasts a 7-storey garden atrium that's bathed in natural light—a serene spot to catch up with friends over coffee or cocktails. For a breathtaking view of Bangkok's skyline, head to our rooftop bar and take in the city's beauty.
Common areas at W22 by Burasari are designed with your enjoyment in mind. We provide a full-size snooker table for those looking for a bit of friendly competition. Snacking, sipping on drinks, and handling laundry is effortless with our well-appointed facilities, ensuring your stay is both enjoyable and affordable.
Important Information:
Check-In & Check-Out: Check-in begins at 14:00, allowing you to start your Bangkok adventure comfortably. Check-out should be completed by 12:00.
Payment Options: We accept both cash and credit card payments upon arrival.
Breakfast: Please note that breakfast is not included in your stay, allowing you the freedom to explore the culinary delights of Chinatown.
No Smoking: For the comfort of all guests, smoking is prohibited throughout the entire building.
Age Restriction: We welcome guests who are 18 years old or older.
Around-the-Clock Service: Our reception operates 24 hours a day, ensuring assistance is always available.
Cancellation Policy: We kindly ask for a 7-day notice for cancellations.
W22 by Burasari offers a distinctive and charming stay in the heart of Bangkok. Whether you're here to explore the bustling streets of Chinatown or simply unwind in style, our boutique hotel promises an unforgettable experience. Book your stay today and discover the chic oasis that is W22 by Burasari.
7. Tropical Summer Hostel
Tropical Summer Hostel lives up to its name with a relaxed, beachy atmosphere right in Bangkok. This hostel offers both dorms and private rooms, making it suitable for all types of travelers.
Insider Tip: Try the local street food stalls nearby for some authentic Thai flavors.
8. Room 22 Hostel
Room 22 Hostel is a chic and modern hostel located in the Sukhumvit area. It's known for its cleanliness and comfort, making it a top choice for travelers looking for a cozy stay.
Insider Tip: Explore the nearby EmQuartier shopping district for some retail therapy.
9. Nonhouse Hostel
Nonhouse Hostel, located in the historic district of Rattanakosin Island, is a haven for history buffs. The hostel's traditional Thai-style design and proximity to cultural landmarks make it a unique choice.
Insider Tip: Visit the Grand Palace and Wat Pho, both within walking distance.
10. Issara by D Hostel
Issara by D Hostel is a trendy and stylish hostel located near the famous Ekkamai district. It's known for its welcoming staff and vibrant atmosphere.
Insider Tip: Explore Ekkamai's eclectic mix of cafes, restaurants, and bars.
Now that you have a glimpse of the top 10 hostels in Bangkok, you might be wondering how to book your stay hassle-free. That's where Hostelworld comes into play.
The Benefits of Booking Through Hostelworld.com
Hostelworld is your go-to platform for booking budget-friendly hostels around the world. Here's why you should consider it:
Extensive Selection: Hostelworld offers a vast array of hostels, ensuring you'll find the perfect one to suit your preferences and budget.
Verified Reviews: You can rely on the honest reviews from fellow travelers to make informed decisions about your stay.
User-Friendly Interface: The website is easy to navigate, making the booking process quick and efficient.
Flexible Booking: Hostelworld often offers flexible booking options, allowing you to change your plans if needed.
Wrapping Up…
Bangkok is a city that never ceases to amaze, and these hostels are your gateway to exploring it on a budget. From lively neighborhoods to serene riverside locations, you have a plethora of options to choose from.
So, why wait? Start planning your adventure in Bangkok today and book your stay through Hostelworld. Your budget-friendly Thai adventure is just a few clicks away!
Ready to Begin Your Bangkok Adventure?
Don't wait! Start planning your budget-friendly adventure in Bangkok with Hostelworld. Click below to browse and book your dream stay today.
Remember, the vibrant streets of Bangkok are waiting for you to explore, and Hostelworld is your trusted companion for affordable, unforgettable journeys. Safe travels!