London, the vibrant capital of the United Kingdom, is a city that beckons travellers from around the globe with its rich history, iconic landmarks, and diverse culture. However, a trip to London can be expensive, especially when it comes to accommodation.
If you're an intrepid traveller looking to explore this fascinating city without breaking the bank, backpacking hostels in London might just be your best bet. In this extensive guide, I'll take you on a virtual tour of some of the top backpacking hostels in London, where affordability meets adventure.
Why Choose Backpacking Hostels in London?
Before we dive into the list of backpacking hostels, let's understand why choosing hostels is a smart choice for budget-conscious travellers:
Budget-Friendly
Hostels are well-known for being budget-friendly. They offer dormitory-style accommodation, which is considerably cheaper than traditional hotels, allowing you to allocate your funds for more exciting experiences in London.
Social Atmosphere
One of the primary draws of hostels is the social atmosphere. You'll have the chance to meet fellow travellers from all over the world, share stories, and potentially find travel buddies for your London adventures. It's a great way to enhance your trip and perhaps even learn some insider tips about the city.
Prime Locations
Many backpacking hostels in London are strategically located in the heart of the city or near major attractions, making it easy to explore the city on foot or by using public transportation. This not only saves you money but also time.
Amenities
Contrary to popular belief, hostels offer a range of amenities, including communal kitchens, lounges, and even private rooms. This flexibility ensures you can find a hostel that suits your comfort level and travel style. Here are some key amenities to look for:
Communal Kitchen: Many hostels have well-equipped communal kitchens where you can prepare your own meals. This can save you a significant amount of money on dining out.
Common Areas: Socializing is a big part of the hostel experience. Look for hostels with comfortable common areas where you can relax, meet other travellers, and even plan your London adventures together.
Wi-Fi: Staying connected is essential for modern travellers. Most hostels offer free Wi-Fi, so you can easily plan your days, stay in touch with loved ones, and share your London experiences on social media.
Laundry Facilities: If you're on an extended trip, having access to laundry facilities can be a lifesaver. It means you can pack lighter and not worry about running out of clean clothes.
The Top Backpacking Hostels in London
Now, let's take a closer look at some of the best backpacking hostels in London, where you can rest your weary head after a day of sightseeing: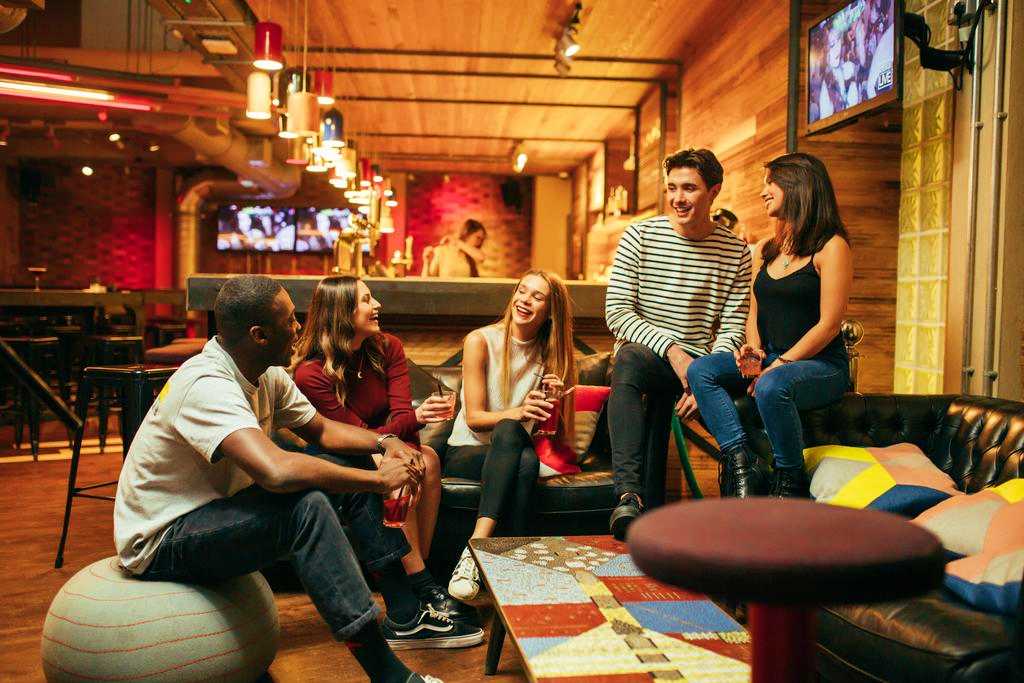 Location: King's Cross
Generator Hostel is a well-established brand known for its stylish and comfortable hostels. The London location, situated in King's Cross, offers a unique and vibrant atmosphere. With a bar, cafe, and an on-site travel shop, it's easy to connect with fellow travelers. Plus, the Harry Potter Platform 9¾ at King's Cross Station is just a stone's throw away! Here are some tips for staying at Generator Hostel:
Book Early: Generator Hostel is a popular choice, so it's wise to book your stay well in advance, especially during peak travel seasons.
Explore King's Cross: Besides the famous platform, King's Cross has a lot to offer. Take a stroll in Granary Square or visit the British Library nearby.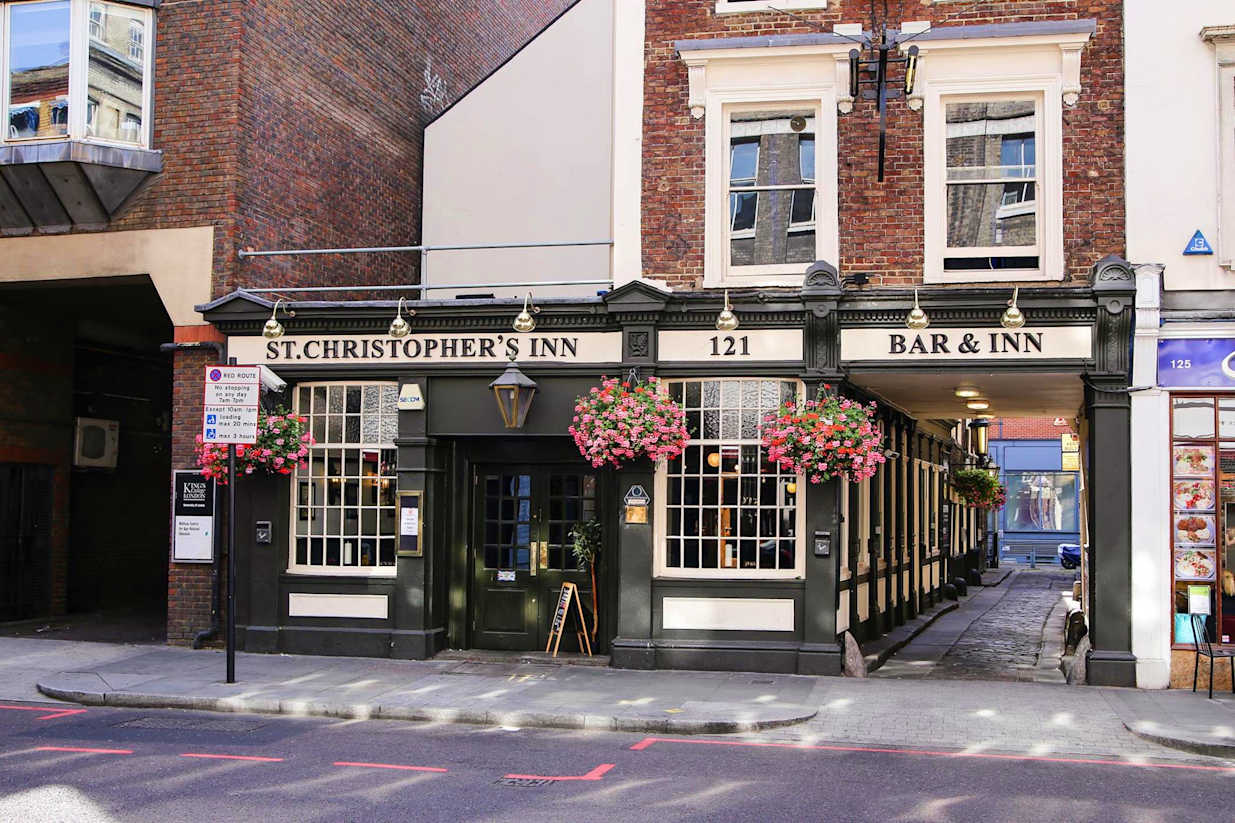 Location: London Bridge
Located in the heart of London Bridge, St. Christopher's Inn Hostel offers a buzzing social scene with an on-site pub, Belushi's. It's an ideal choice if you want to explore famous landmarks like the Tower Bridge and the Borough Market. The hostel also organises pub crawls and walking tours to help you make the most of your stay. Here are some tips for staying at St. Christopher's Inn Hostel:
Join the Pub Crawl: St. Christopher's Inn Hostel is known for its lively pub crawls. It's a fantastic way to meet fellow travellers and experience London's nightlife.
Visit Borough Market: Don't miss the chance to explore Borough Market, a food lover's paradise. It's just a short walk from the hostel.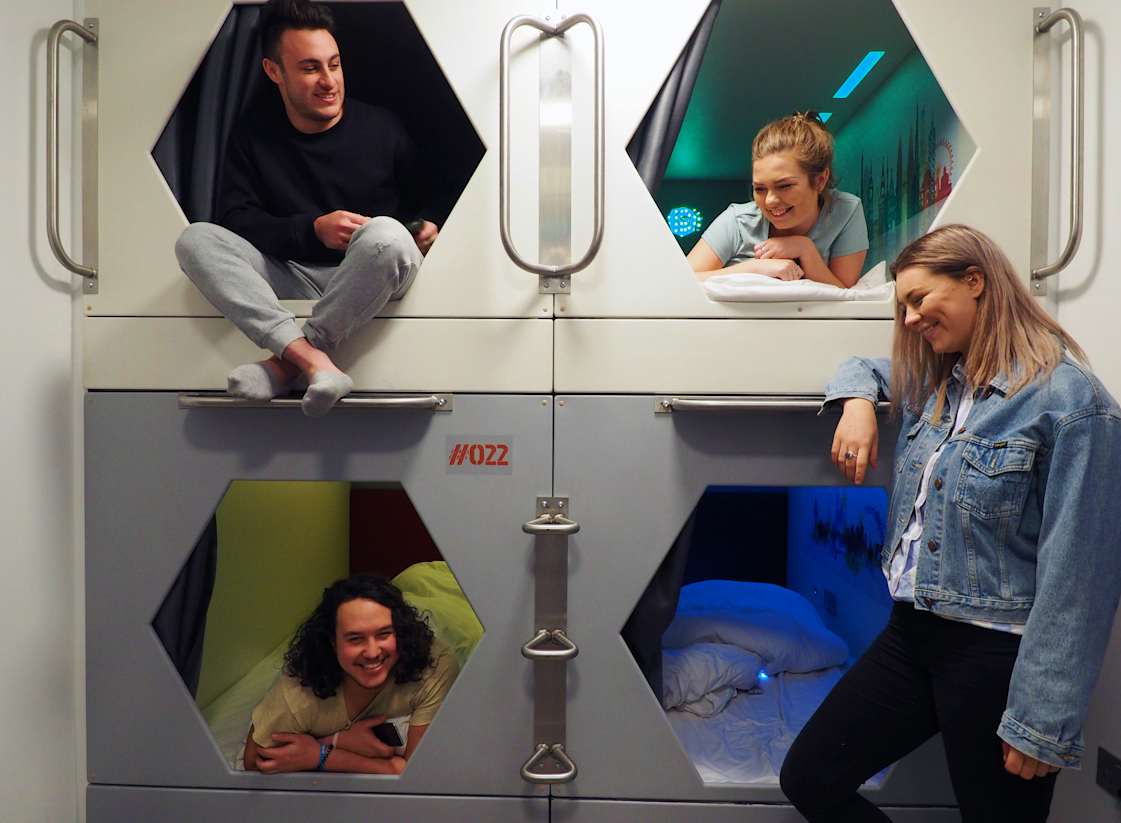 Location: London Bridge
Nestled in the heart of London Bridge, St. Christopher's Inn at The Village stands out as the UK's first-ever capsule hostel. Designed with a keen focus on providing guests with the ultimate night's sleep, this innovative hostel offers an unforgettable blend of comfort and adventure in one of London's most vibrant neighbourhoods.
Party-Ready Capsule Comfort: St. Christopher's Inn at The Village offers Japanese-style capsule beds with privacy curtains, USB ports, and mood lighting in one of London's liveliest neighborhoods.
Private Rooms with a Shard View: Enjoy the luxury of private rooms, some with stunning views of London's iconic Shard skyscraper.
Vibrant Social Atmosphere: Experience the excitement of one of the world's best party hostels, with lively common areas and events that make meeting fellow travelers a breeze.
Delicious Continental Breakfast: Fuel your London adventures with a budget-friendly continental breakfast for just £5 a day, available at reception upon arrival.
Prime London Bridge Location: Explore London's history and culture with ease, as St. Christopher's Inn is perfectly situated near the Tower Bridge, Borough Market, and more.
Unforgettable Hostel Experience: St. Christopher's Inn at The Village isn't just a place to sleep; it's a unique travel experience blending comfort and adventure in London's heart.
Location: Whitechapel
Wombat's City Hostel in London, located in Whitechapel, is another excellent option. Known for its cleanliness and comfort, this hostel is within easy reach of attractions like the Tower of London and Brick Lane. The common areas are spacious and designed for socializing. Here are some tips for staying at Wombat's City Hostel:
Take a Walking Tour: Wombat's often organizes walking tours. It's a great way to learn about the history and culture of the city.
Try Street Food: Whitechapel is known for its diverse food scene. Be sure to sample some of the delicious street food in the area.
Location: Elephant & Castle
Safestay, located in the Elephant & Castle neighborhood, offers a safe and comfortable environment for travelers. The hostel is set in a historic building and boasts a beautiful courtyard. It's a great base for exploring South London and is close to the iconic Shard building. Here are some tips for staying at Safestay:
Visit the Imperial War Museum: The Imperial War Museum, located nearby, is a fascinating place to learn about the history of conflict and its impact on the world.
Enjoy the View from the Shard: The Shard offers breathtaking views of London. Consider booking tickets in advance to avoid long queues.
Booking Your Stay with Hostelworld
Now that you know about some fantastic backpacking hostels in London, you might be wondering how to book your stay. This is where Hostelworld.com comes into play.
Hostelworld is a leading online booking platform with a focus on hostels worldwide. Here are some additional benefits of booking your London hostel through Hostelworld:
Flexible Booking: Hostelworld offers flexible booking options, so you can change your plans if needed.
Verified Reviews: The platform ensures that reviews are from real travelers, providing you with trustworthy information.
Travel Insurance: You can also purchase travel insurance through Hostelworld to protect your trip.
Mobile App: Download the Hostelworld app to easily manage your bookings on the go.
Wrapping Up
Exploring London on a budget doesn't mean sacrificing comfort or adventure. Backpacking hostels in London offer an ideal blend of affordability, social interaction, and prime locations, making them the perfect choice for budget-conscious travelers.
So, whether you're sipping tea near Buckingham Palace or admiring the cityscape from the Shard, you can rest easy knowing that London's top backpacking hostels provide the perfect base for your London escapade.
Don't miss out on the opportunity to "Meet the World" at these incredible hostels. Book your London adventure through Hostelworld and embark on a journey filled with unforgettable memories and new friends.
Take action now and start planning your London adventure with Hostelworld.com! Your budget-friendly London getaway awaits.
Immerse yourself in Tuscany's charm with our expert guide to a day trip from Florence. Explore Siena, San Gimignano, Pisa,…